A proud member of the internet since 1995.
Our sites:
Home of
Access Heritage Inc (formerly The Discriminating General)
The Napoleonic Wars Collection
Military Music Sound Clip Gallery
---
Products and Services:
British Army Products 1793-1815
British Army Products 1816-1856
---

Articles - Reenactments and Units - Book Reviews - Quizzes - Replicas - Links - Chart of British Regiments - Sound Clips - Prints for Sale - Animated GIF Battles - Chronology of Events - Video Clips
Uniforms of the 19th Light Dragoons in Canada 1813-1816
by René Chartrand
Former Military Curator of Parks Canada, Mr Chartrand is the author of countless quality works on military dress including Uniforms and Equipment of the US Army in the War of 1812. When he is not writing, Mr Chartrand is busy consulting for museums and the film industry.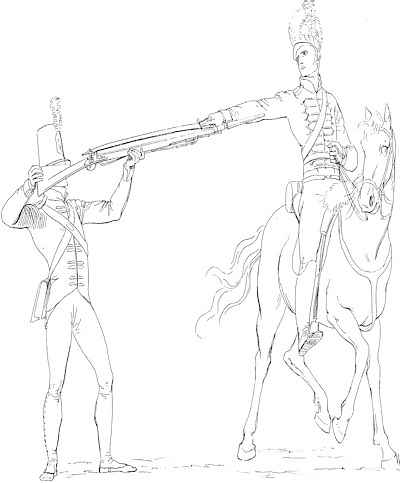 Light Dragoon giving point to the right (1803)
During the War of 1812, only two British regular cavalry units served in North America, the 14th and the 19th Light Dragoons. Of these, it could be said that only the 19th really served as cavalry; the 14th only had a dismounted detachment of two squadrons serving at the New Orleans campaign during December 1814 and January 1815. The 19th Light Dragoons had longer service in Canada. The first three squadrons arrived at Quebec in May 1813 and were mounted on horses procured in Lower Canada. Two squadrons were then sent to Upper Canada where they were involved in many engagements against the Americans before being ordered to Montréal in the fall of 1814 to rejoin the other squadron there. It then served south of Montréal until sent back to Britain in August 1816.
Before 1812, the regulation Light Dragoon uniform consisted of leather, bearskin-crested, "Tarleton" helmet and a blue jacket heavily braided with hussar-style cords. However, during late 1811, the Prince Regent decided on a new uniform featuring a broad-topped shako and a jacket with lapels that looked very much like Napoleon's Chasseurs à cheval regiments. In December, officers were instructed of the new order of dress.
The new uniform was greeted with dismay. An officer noted at a dinner in February 1812 that "Lord Guernsey showed us the new Light Dragoon Dress; everyone agreed it was quite shocking." Even the Duke of Wellington in Portugal was upset, commenting that "there is one thing that I deprecate, and that is any imitation of the French, in any manner." But even the duke could not oppose the prince and two royal warrants of March and August 1812 imposed the new uniform to all ranks. The warrant of August 17 was especially detailed and called for an issue, "every two years", of a shako with a plume, an "upper jacket", and "under jacket", a flannel waistcoat, a pair of worsted web pantaloons, and every year, a pair of gloves. A pair of grey overalls strapped with leather were to also to be taken into wear.
When was the new uniform adopted in Canada? For clues, one must turn to when a regiment had to be clothed and for how long the clothing was to last. The clothing, which was made in Britain, had to be ready by February for issue in Canada on 25 December. The Tarleton helmet was to last three years, the jacket two. Thus, a regiment clothed on 25 December 1811, would have its jacket until December 1813 and its helmet until December 1814, if issued at the same time.
In 1813, the 19th still had the old pattern uniform hussar-style uniform with Tarleton helmets. An inspection of the two squadrons left in Radipole, Ireland, on 18 October 1813 reports its uniform still "according to [the] old pattern". Obviously, the squadrons in Canada would have worn a similar dress, but for how much longer? Fortunately, it is recorded that the new clothing of the 19th was shipped from Britain to Canada in the spring of 1813 for issue on 25 December 1813, as per regulations. Thus, the 19th had the new style from 1814. The officer's lace, ordered changed from silver to gold in 1812 with the new uniform, was thus changed from 1814.
The old pattern uniform of the 19th Light Dragoons consisted of a black leather helmet with bearskin crest, black turban with white metal chains and regimental badge on the side bearing the elephant, "ASSAYE" above, within a crowned garter with "Honi soit qui mal y pense" thereon, and a white over red plume. The jacket was blue with yellow collar and cuffs, three rows of plain round white metal buttons on the chest, white braid covering the chest, edging the collar, cuffs, false pockets and back seams. Breeches were of white leather. Black boots were worn when mounted, black knee gaiters when serving on foot. Undress may have consisted of a single breasted blue jacket, possibly with yellow collar tabs or cuffs and collar, white pantaloons and a blue fatigue cap trimmed yellow. Cloaks were blue with a yellow collar. The 19th soon found that their long cloaks were not quite up to the challenges of a Canadian winter. So their dark blue cloaks were transformed "into coats with sleeves" since the accoutrements had to constantly be worn over the coats in the "peculiar climate" of Canada.
Sergeants had three and corporals had two white chevrons on yellow backing, the sergeants also having a crimson sash with a yellow central stripe. Since a General Order dated 8 October 1811, trumpeters were to wear the same color jacket as the rest of the regiment with a distinguishing lace, instead of the reversed colors previously worn. The 19th's pattern trumpeter's lace is presently unknown.
Officers had the same uniform, but made of better material with silver chains and badge on the helmet, silver buttons and braid on the jacket. Hussar-style barrel sash, with cords and tassel, of either crimson silk, or crimson and gold mixed, around the waist. White breeches or pantaloons and black hussar boots with silver lace and tassels were usually worn but blue pantaloons embroidered with silver could also be seen. A miniature of Adolphus Darlymple, Major in the 19th from 1808 to 1814, shows a blue pelisse edged with black fur and trimmed with silver buttons and braid, an indication that officers of the regiment probably wore this item as well.
The 19th's "New Pattern" uniform of 1812 for privates consisted of a black felt shako with a band of yellow worsted lace edging the top, a black wheel edged with yellow lace in front, white over red plume, yellow cords and tassels, and brass chinscales. Blue coatee with yellow collar, cuffs, lapels, turnbacks and piping at the back seams and sleeves; yellow worsted fringed epaulets and a fringe at the rear back waist; pewter semi-domed buttons stamped with the corps designation. Around the waist was a yellow worsted girdle with two blue stripes. White web pantaloons with black boots in full dress. Grey or grey-blue overalls strapped with brown leather with double yellow stripes when on campaign. Undress was the same as previously, with the jacket's collar and cuffs or collar tab in the yellow facing color, and the regimental button. The cloaks was blue with a small overcape and had a yellow collar.
Sergeants, corporals and buglers had distinctions as previously. The officers had the same uniform but with gold lace, epaulettes, fringes and buttons. The shako cords and tassels were gold and crimson mixed, the girdle sash was gold with two crimson stripes. For dress, officers were to wear white leather breeches with boots edged with gold, while on ordinary duties, overalls similar to the private's were allowed. Instead of a pelisse, they were to wear a short surtout or greatcoat on service. This appears to have been the pelisse-jacket which was of a similar cut to the dress jacket but without the piping, the lapels always worn buttoned over (except at the top) and the collar, cuffs, visible portion of the lapels and turnbacks being of a yellow hairy shag. Some officers indulged in blue round forage caps with a lace band and a tassel on top.
Copyright: René Chartrand


Copyright: Unless otherwise noted, all information, images, data contained within this website is protected by copyright under international law. Any unauthorized use of material contained here is strictly forbidden. All rights reserved.